Outlook Profile Photo
You can submit photos to be displayed in Outlook, Microsoft Teams and other services that integrate with Microsoft 365.
Your photo will most commonly appear in Outlook, Teams and departmental directories. It replaces the default icon in Outlook (example below).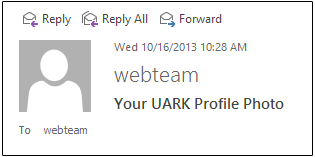 When you submit a new UARK Profile Photo, your image should:
Be a head shot submitted in JPEG format
Professionally represent the University of Arkansas
Have a minimum size of 650x975 pixels
To submit your profile photo:
Log into the Campus Web Data site with your UARK username and password.
Click the Edit Profile button in the top right corner.
In the Profile Image section, click Select files. Select your photo and click Open or OK.
Review the Image Preview on the right.
Check the box to show your image in Outlook, Teams & other Microsoft 365 services.
(Optional) You can also choose Show in Departmental Directory (this option allows your profile photo to appear on university websites and print materials).
Click Continue. Click Submit Profile.
For assistance, contact Kelly Bostick at 479-575-7350 or kbostick@uark.edu.