About the Student Technology Center
About the Student Technology Center
The Student Technology Center (STC) is open five days a week and is located on the third floor of the Arkansas Union, near the food court.
The STC provides three primary services:
The Digital Media Lab is a productive environment for creative media that includes high-end PCs with multimedia software, quiet rooms for audio recording and editing, as well as a room for green screen.


Equipment checkouts are located at the front desk. We have a large variety of equipment available, including 24-hour laptops, DLSR cameras, tripods, headphones and more.


The Gaming Lounge provides a comfortable setting for gaming and socializing.
The Mission
Our services enable students, faculty and staff to succeed academically and professionally in an ever-changing learning environment. By providing the equipment, software and services that promote a higher quality educational experience, we support the university's overall mission and guiding priorities. It is our goal to be a driving force behind technological advancement for learning experiences and professional development.
How We Got Here
The Student Technology Center, founded in 2002, was originally located on the north side of the Arkansas Union near the main entrance. At that time, we only had six computer workstations and a small number of laptops, audio recorders and digital still cameras.
In 2012, a new facility was built with a digital media lab, updated project workstations, a gaming lounge, more equipment checkouts, recording studios and a team meeting room. Today we have further expanded our equipment checkouts, offer the latest generation of consoles, and converted our team meeting room into a green screen room for video and streaming.
Going forward, we are looking at virtual reality for gaming and educational development, as well as adding other new services to the students, faculty and staff of the University of Arkansas.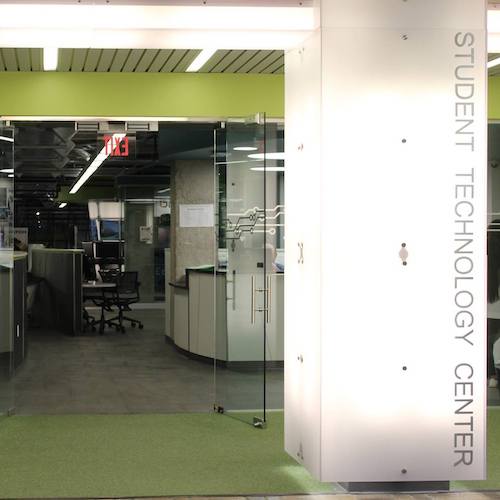 Visit us on the
3rd Floor of the
Arkansas Union
HOURS & CONTACT
Mon - Fri: 8 a.m. to 10 p.m.
Sat: Closed
Sun: Closed
479-575-8602
stc@uark.edu
STC SOCIAL MEDIA