Office 365 Groups
Create a New Group
Log into outlook.office.com with your UARK email address and password.
Click the plus (+) icon next to the Groups menu on the left.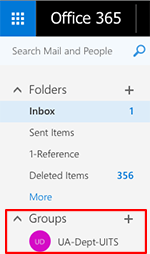 Naming Your Group
When creating a new group, we recommend following a consistent naming convention to avoid clutter and confusion as more employees and departments move to the new service. Names for Office 365 Groups should be more than eight characters long. Make your group name as concise as possible while making it meaningful for your members.
If your new group is to be used for your school, department or business unit (BU), we suggest starting your group name with the unit code, followed by a dash. Example: "GRAD-All School"
If your new group members are not limited to a single school or department, consider the role of the group as a way to start the name of the group. Examples:
Accounting-Asset Managers
Research-Grant Opportunities
GraduateProgramName-Faculty Shared Space
UAF-Campuswide Group Name
If you need to use a temporary group for a specific project, committee or purpose, begin your group name with a word that tells your members what this group is about. Examples:
Project-Retention Software
Committee-Sustainability
Search Committee-Position Title or ID Here
Learn more about Office 365 Groups.